Press Release
Dolmen Engineering joins international consultancy company NIRAS
published on 25 April 2022
Dolmen Engineering has been acquired by the international consultancy company NIRAS. NIRAS is a leading consultant to the Danish Pharma and Life Science industries, and the company provides consultancy to leading Food and Beverage companies worldwide.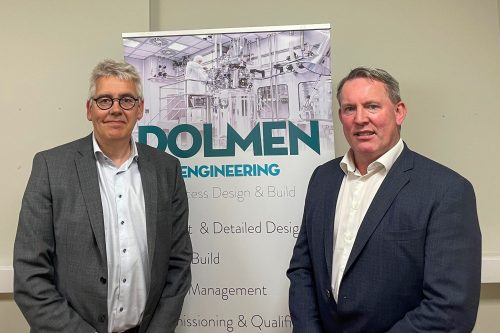 The integration will enable the two companies to strengthen their positions within the European Life Science and Food & Beverage sectors and offer a fully integrated suite of services.
"We believe that Dolmen Engineering and NIRAS form a perfect match of expertise, professional capacities, and access to different markets. The two companies will complement each other very well and above all our combined forces will benefit our clients" said Senior Vice President in NIRAS, Thomas B. Olsen.
The inclusion of Dolmen Engineering into NIRAS adds a series of competences including Engineering Design, Project Management, Commissioning/Qualification/Validation, and Contract Services.
"The acquisition of Dolmen Engineering is another example of how NIRAS seeks to consolidate its position among independent advisors to the Life Science industry. NIRAS is experiencing strong growth in the Life Science sector and by adding Dolmen's Process Engineering expertise, we can increase and improve our services for our clients in all our markets," said Thomas B. Olsen.
Dolmen Engineering has chosen to integrate with NIRAS to further grow the company's services in European markets.
"Dolmen Engineering is delighted to join forces with NIRAS. Both companies share the same passion for delivering excellence to our clients and NIRAS have strong competences within sustainability and energy optimisation in the Life Science industry. This means that we can draw on a whole new set of expertise in Denmark, The Netherlands, and United Kingdom. This will allow Dolmen Engineering to accelerate its growth plans in Europe and in parallel continue to strengthen our offering in Ireland." said Niall Corrigan, CEO of Dolmen Engineering.
By combining two complementary businesses, NIRAS and Dolmen Engineering have also improved their combined strengths and their market position within the British and European Food and Beverage sector.
For NIRAS, incorporating Dolmen Engineering into its business means that the company can diversify and improve its services for the Irish, British, and European Life Science industry, and support the industry in the green transition, which is high on the agenda in the Life Science sector.
"In NIRAS, we have been focusing on sustainability for many years and we have a leading position in this area. We have a strong focus on green energy transition and energy efficiency. Dolmen Engineering and its customers will benefit from our strong competencies in these areas," says Thomas B. Olsen.
Facts about NIRAS
NIRAS is an international multi-disciplinary consultancy company that was founded in 1956 in Denmark. NIRAS has 2,400 employees, 54 offices in 31 countries, and projects in 108 countries.
NIRAS is one of Denmark's leading consultants in the Pharma and Life Sciences industry. The company also works on process industry projects all over the world, ranging from South Korea's largest dairy factory to Canada's largest poultry processing plant to breweries in Europe, Asia, Latin America, and Africa. NIRAS has a strong focus on sustainability and recently won the prestigious Global Water Awards with Carlsberg for the world's most water efficient brewery. NIRAS' key clients include some of the leading Danish Pharmaceutical and Food & Beverage companies.
NIRAS is a value-driven, multi-disciplinary engineering consultancy fundamentally committed to sustainable progress and service delivery. NIRAS's business areas include building, energy, water, environment, infrastructure, offshore wind, ports & marine, food & beverage, life science, urban planning, and development consulting.
In Denmark, NIRAS is a market leader in the majority of their business areas, and have strong niche markets in Northern Europe and Asia-Pacific. We believe that collaboration, creativity, and sharing knowledge, will help create the most value for our clients.
NIRAS's strong, professional environments give their clients access to interdisciplinary services and a profound level of expertise. To NIRAS, it is crucial to develop a close and trusting relationship with our customers as help them realise their sustainable potential. In everything we do, we strive to create value for our customers and have a positive impact on society through sustainable progress and technologies. NIRAS Fundamentals include our business ecosystem as well as the foundation of the way we work based on our values: Listen, Learn and Deliver.
NIRAS employs highly skilled professionals, and strive to create a dynamic, professional, and challenging working environment that pays special attention to the work-life balance. The core values tie us together across national borders, sectors and professional expertise. The unique trademark is an inter-disciplinary and innovative approach to projects, and we take pride in transforming clients visions and challenges and facilitating sustainable progress.
NIRAS place a high value on education. In 2021, they invested 2.3% of total staff cost in training. They also developed and completed a new Scandinavian graduate program and invested in a special education fund. Our Trust also funds 6 Ph.Ds.